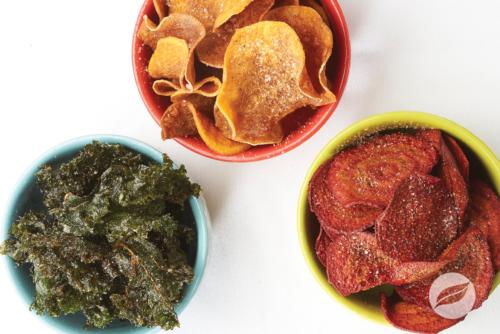 Vegetable chips are a baked delicious blend of vegetables and seasonings. Perfect for snack time!

Vegetable Chips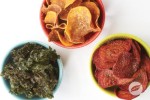 Instructions
Preheat oven to 425°F.
Heat ½ cup Wildtree Natural Grapeseed Oil to 325°F in a small pot.
Thinly slice the sweet potatoes and beets using a mandoline or food processor slicing attachment.
Line a sheet pan with greased foil and spread out the kale leaves in one layer, and coat with remaining Grapeseed Oil.
Bake the kale for about 15 minutes, stirring every 5 minutes to prevent clumping and burning. Remove the kale and toss with Wildtree Gourmet Sea Salt: Garlic.
Once the oil in the pan is up to temperature, shallow fry the sweet potato and beet slices in small batches until golden brown, about 8 minutes.
Drain the chips on paper towels.
Season the beet chips with Wildtree Gourmet Sea Salt:
Five Pepper and the sweet potato chips with Wildtree Gourmet Sea Salt: BBQ.